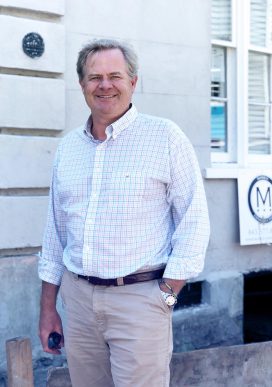 Buz Morris
Principal, AIA, President/CEO & Founder
As Morris Construction's principal and a licensed builder and architect, Robert "Buz" Morris has been building homes since 1992. Buz approaches his profession with a passion for superior construction, aesthetic appeal, flow, and quality. Buz knows from experience the value of having a committed architect manage the full scope of a construction project.
Prior to returning to Charleston Buz worked in New York with the esteemed architecture firm of Gwathmey Siegel. Training directly under Charles Gwathmey, Buz had the opportunity to work on some of the most prominent buildings in New York, including the 256,000 sq. ft. New York Public Library.
Featured in the periodical Carolina Compass, Buz is referred to as "moving at a New York pace with a Southern attitude…he shows a determination to be closely attached to what is traditional and honest and life giving."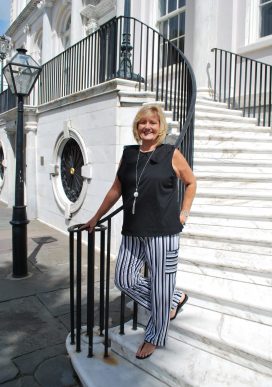 Martha Johnston
Human Resources & Office Coordinator
Martha Johnson was born and raised in Buckhannon, West Virginia. Graduating with honors at her local high school, she went on to graduate from West Virginia Business College.
After raising her son, Martha was looking for a fresh start and fled the Mountain State seeking warmer weather, sandy beaches, and water access;  all while not being too far from home – landing her in Charleson, South Carolina! 
Martha has worked in construction for 15 years+. At Morris Construction, it would be easier to list the things Martha doesn't do than the tasks she does – from HR to office coordination, you may see or hear Martha in many different settings.  
In her off time, Martha enjoys anything outdoors, especially near water! From fishing, boating, beach lounging & gardening, you could say Martha gets her fair share of Vitamin D. If not outdoors, she enjoys cooking and most importantly, spending time with her fiancé.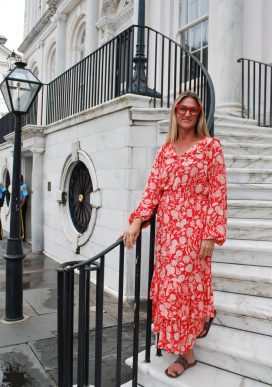 Trish Milner
Project Coordinator
Tricia Milner was born and raised in Charlotte, NC. Obtaining her Bachelor of Science in Business Administration with a Minor in Arts Management & Studio Art from the College of Charleston; the city always held a special place in her heart. 
Trish holds tenure in project management/coordination. She started by dabbling in the field in her hometown but later decided to make the big leap to the Golden State. Starting her career in San Francisco, California, she oversaw the development of residential developments, including single-family homes, high-rise condominiums, and townhomes. 
Trish came down with a case of home-sickness and felt an urge to move back to somewhere that felt similar to home. With Charleston still irking at her heart, she wasn't ready yet to settle down. Trish saw the opportunity with no responsibility as her last chance to travel the world. 
After her wild adventures abroad, Trish later did settle down in Charleston and has been working in project management since. 
In her off time, you'll find Trish traveling and exploring with her two children, practicing yoga, sailing, and skiing.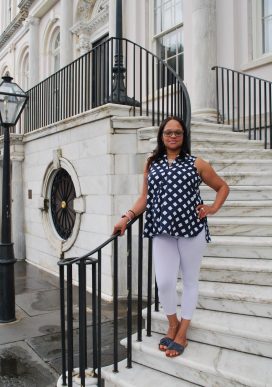 Glenda Johnson
Billing & Account Management 
Glenda Johnson is a native South Carolinian, born and raised in Ravenel, just south of Charleston. She began her career working for a Real Estate Company for 6 years. She went on to work at Charleston County Social Services as the IV-E Coordinator and later worked in administration for private companies.
Later, obtaining her Bachelor of Science in Organizational Management from Voorhees College in 2009. She has been a Notary Public of the State of South Carolina for 16 years. At Morris Construction, Glenda handles all things Billing & Account Management.  
In her off time, Glenda enjoys spending time with family and friends, reading, spending time at the beach, arts and crafts, and refurbishing furniture.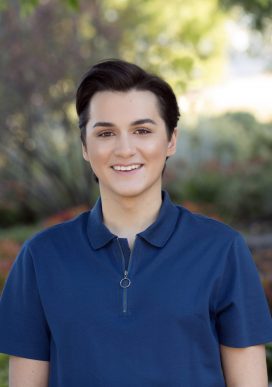 Spencer Reilly
Administrative Assistant
Spencer Reilly was born and raised in Portland, Oregon. He recently moved to Charleston, South Carolina for a change of scenery and new opportunities. 
Spencer understood commerce from a young age. He impressed friends and family with an ability to negotiate in a positive manner, with respect to others. While other 8-year-olds were out playing, Spencer began buying and selling goods on eBay. By the time he turned 14, Spencer had saved up enough of a nest egg to purchase his first car.
Spencer was born into a large, deeply rooted Portland family; his father has seven siblings, and his mother, an Alaskan Native. Real estate runs deep within Spencer's family. As a child, Spencer's mother was constantly buying, fixing up, and selling homes. Spencer has enjoyed helping remodel many of the homes, inheriting a great eye for visualizing possible design opportunities. 
Spencer has always had a strong work ethic and is very organized (possibly a little OCD), making him successful throughout his school years. Obtaining his real estate license at age 18, he worked under two seasoned real estate brokers and then as a full-time broker—selling 2 million+ in sales. Additionally, Spencer was a project manager for two real estate investment firms that built out over six properties under his direction. Once completed and furnished, Spencer managed the properties for short-term rentals and coordinated maintenance.
In Spencer's off time, he enjoys being in the company of friends and family, traveling, working out or running the Ravenel Bridge, brainstorming entrepreneurial pursuits, decorating, designing, and working on homes.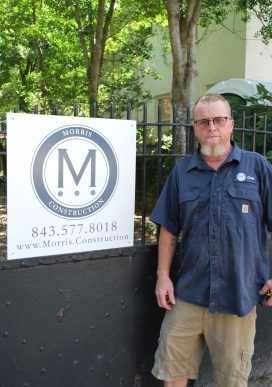 Chris Waters
Foreman
Born and raised in Atlanta, Georgia. Chris was drawn to nearby Charleston for the ability to work on its many historic homes & buildings. Growing up in a family heavily involved in construction, Chris grew to love the trade and is now a third-generation carpenter. Chirs owned and operated his own construction business for 20 years, he found the day-to-day operation was taking away from what he loved about construction. He opped to get back in the field full time and work for a G.C. In Chris' off time, he enjoys playing guitar, fishing, and woodworking at home.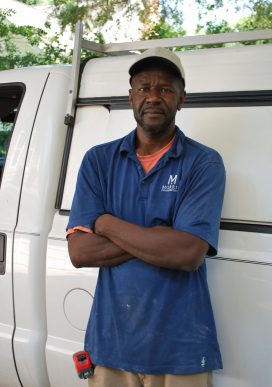 Joe Stokes
Carpenter 
Being a native Charlestonian, Joe is well-versed in the Charleston area, along with 25-years of experience in construction; Joe is your right-hand man when it comes to getting the job done right, the first time. In Joe's off time, he, as many Charlestonians do, enjoys fishing and a cold brew.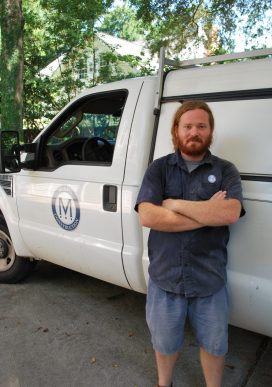 Cody Blasingame
Laborer
A native South Carolinian, Cody has been in construction for over 16 years! You'll always find Cody with a smile on his face and ready to work. In his off time, you'll find Cody spending time with his family and fishing in one of Charleston's many rivers and lakes.